Boat
The PJOA FOLK proa is aimed at "Spartan" dinghy cruising on sheltered waters, in winds up to 3 Beaufort. The design is as close to traditional bots from the islands of Micronesia as possible, where they were and are used for crossing lagoons. The differences are dictated by modern materials applied which are available in our region and usually represent better parameters.

FOLK is able to transport on cartop of bigger car with max load of 100kg. The bridge between hulls can accommodate a small tent, provided mast step is moved to the socket at the end of the bench.
Technology and materials
We manufacture FOLK canoe in stich and glue technology with glass and epoxy laminate. We use typical marine plywood (pine or beech) for sides, floor, decks. Slats for gunwales, platform boards, ama poles, spars are made of selected pine wood. Platform beams and mast are protected aluminium profiles. Each boat is assembly and rigg by us using best ropes and fittings.
As a basic finish boat comes covered with anti UV laquer with some brown pigment, waterline and our logo on sides.
Sails:
You can choose from our sails on curved spars: 8m2 or 10 m2.
For special demand we can use exotic plywood and woods, different colours of finish. We can apply graphic on boat or sail.
FOLK general dimentions:
Lenght: 500cm (16,4′)
Beam: 310cm (10,2′)
Height: 590/540cm (19,4/17,7′)
Weight rigged: 85 – 90 kg (187 -198 lbs)
Vaka (main hull): 44 kg (96 lbs)
Ama (outrigger): 13 kg (29 lbs)
Aka (platform): 14 kg (31 lbs)
Crew: 2-4 person (max load 300kg 660 lbs)
Crab law sail: 8 sqm
Dimentions for storage, transport: 500 x 90 x 140cm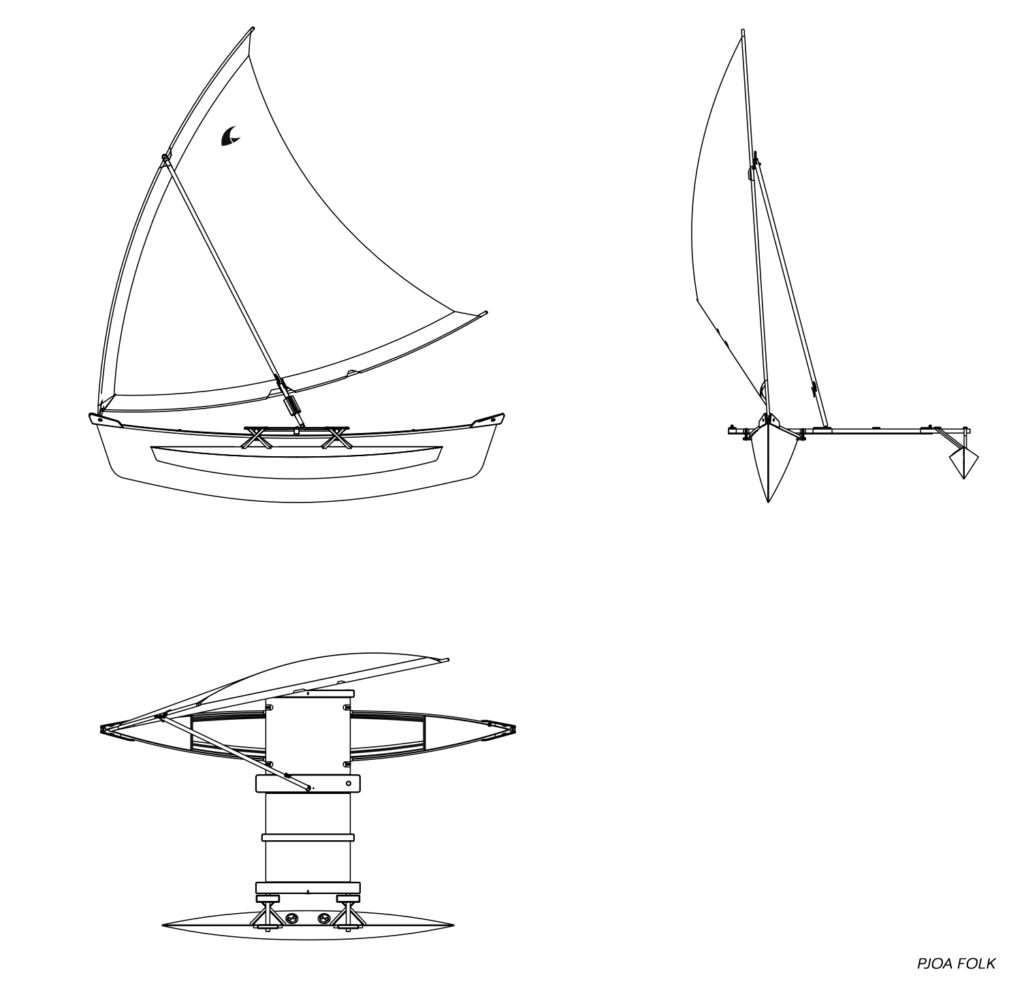 Please contact us for order and prices via e – mail: pjoa@pjoa.pl
FOLK gallery
---
Please contact us for order and prices via e – mail: pjoa@pjoa.pl
Download FOLK pdf broshure :