Boat
The Puch PJOA proa is aimed at "Spartan" dinghy cruising on sheltered waters, in winds up to 3-4 Beaufort. The design is as close to traditional boats from the islands of Micronesia as possible, where they were and are used for crossing lagoons or open ocean if bigger size. The differences are dictated by modern materials applied which are available in our region and usually represent better parameters.
The bridge between hulls can accommodate a small tent, provided mast step is moved to the socket at the end of the bench.
Puch PJOA is more complicated and demanding boat to build. We used here classical strip planking construction (cedar or spruce wood) laminated with glass and epoxy. For ama there is stich & glue technology plywood and epoxy malinate. Platform has bent springs and full planking, akas (beams) could be made out of aluminium profiles or glued wood. Due to platform strenght and flexibility we use lashing to attach all boards, springs. Main boards one like mast or sheet are reinforced with screws.
Plans include
materials specification
suggested order of activities
other drawings in regular scale and
license to build one boat.
12 m2 Dacron Crab Claw sail
set of fittings for Ama – Platform connection
Rigging instruction
Puch general dimentions:
Lenght – 600cm (19,6′)
Beam – 360cm (11,8′)
height – 630/580cm (16,6/14,9′)
Weight rigged – 125 kg (277 lbs)
Vaka (main hull) – 55kg (122 lbs)
Ama (outrigger) – 15 kg (33 lbs)
Aka (platform): 40kg (89 lbs)
Crew – 2-4 person (max load 400kg 889 lbs)
Crab law sail – 12 sqm
Dimentions for storage, transport: 600x140x95cm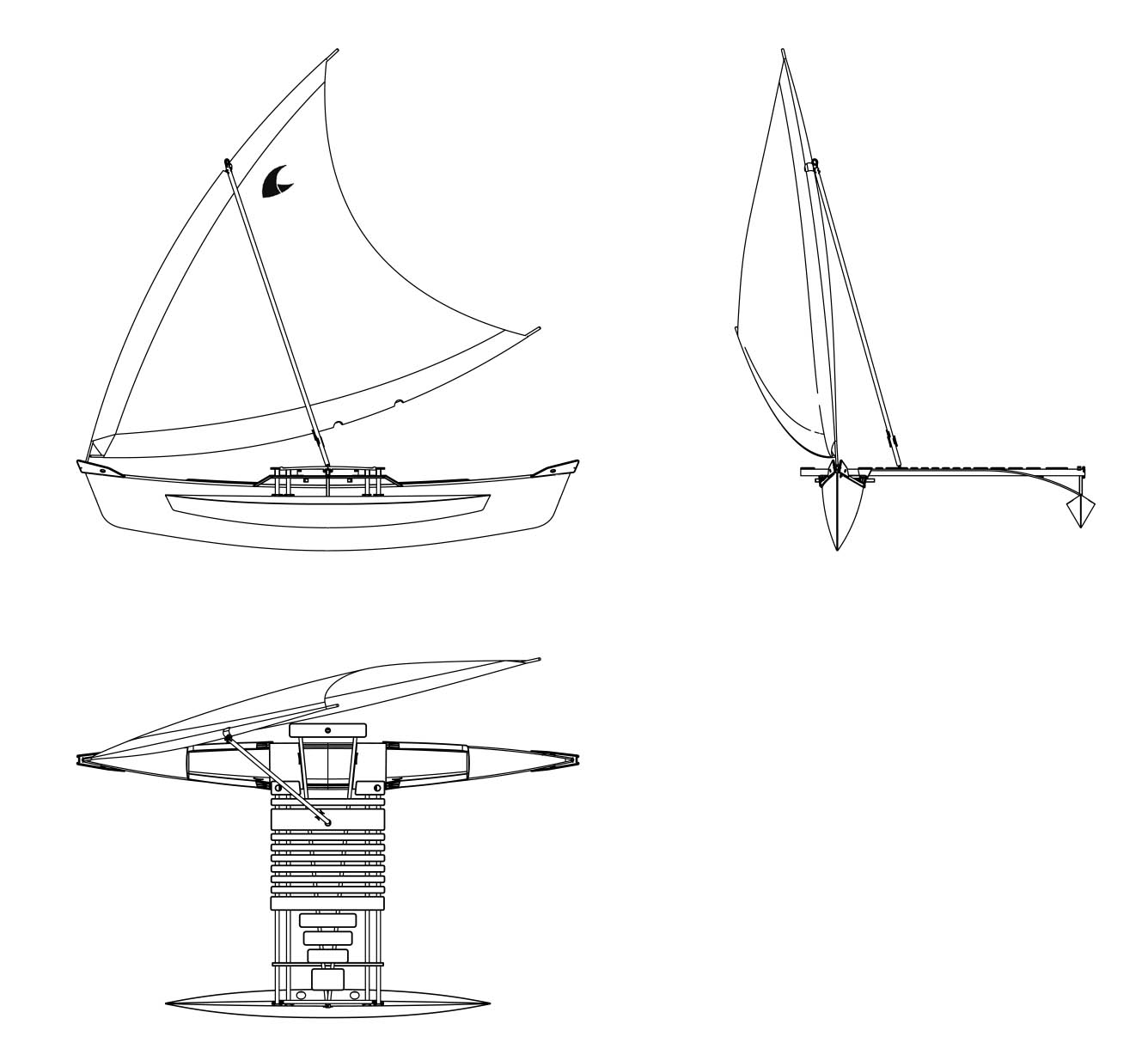 Plans price with sail and custom made fittings: 980 EUR (without shipping)
About 400 – 450 labour hours (without technology brakes)
basic and hand electric tools, advanced tools and expirience with boat building
cost of materials (in EU) about: 3500 EUR
space reqiurement for building about 7,5 m x 4 m
Full set of ropes and fittings price:
You can order full set of rigging ropes, fittings ingluding metal and plastic parts like: clamcleats, eyelets, blocks, cleats, holt hatches etc. Option avalible soon
Please contact us for order and prices via e – mail: pjoa@pjoa.pl
PUCH building gallery